Last Updated:
This is where you will find only the brands which passed our lab's quality analysis. Our quality analysis, which is our basic supplement screening process, simply filters product that do not meet the following criteria:
The supplement must contain

at least 95%

of the ingredient quantity claimed by its label (5% deterioration is the standard allowance for storage and delivery)

The supplement

must

contain

NO IMPURITIES OR ADDITIVES
After the screening process, each product is graded according to additional criteria:
The Right Vitamins — Bioavailable Lutein and Zeaxanthin. These are the two most important ingredients for eye and vision health.

Effectiveness – we look for brands that include clinically proven, well-studied ingredients.

Potency – the amount of active ingredients within the supplement.

Price – self-explanatory, however it is important to remember that

in most cases

you get what you pay for.
PreserVision AREDS 2 Vitamin & Mineral Supplement 120 Count Soft Gels, Packaging May Vary
MacularProtect Complete AREDS2 Vitamin & Mineral Supplement
Hyalogic, Hylavision, 120 Count
PreserVision AREDS 2 Vitamin & Mineral Supplement 120 Count Soft Gels, Packaging May Vary
MacularProtect Complete AREDS2 Vitamin & Mineral Supplement
Hyalogic, Hylavision, 120 Count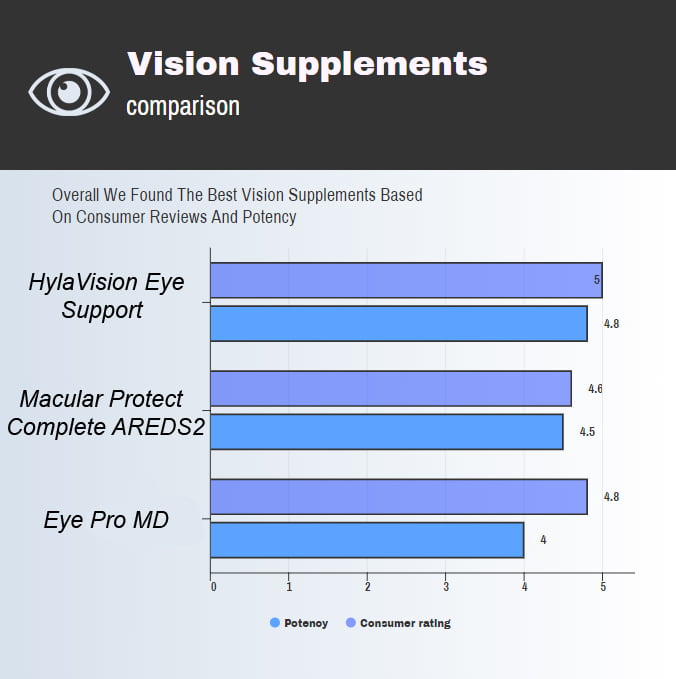 #1 Eye Pro MD
Be Whole
Eye Pro MD contains a wide variety of well-documented micronutrients in ample amounts. The customer feedback for this formula, in particular, is fantastic and our analysis backed up the nutrition label. Lutein is common amongst eye health supplements and is a staple for any quality supplement. Astaxanthin and Zeaxanthin, however, are far less common and arguably just as important.
The quality and variety of micronutrients makes this your best bet for eye health and ongoing maintenance. Eye Pro MD is our pick for Best Vision Supplement of 2019.
Overall Score: 4.6/5
The Right Vitamins: 4.5/5
Effectiveness: 4.5/5
Potency: 4.8/5
Eye Pro MD: Supports & Maintains Healthy Eyes - Synergistic Formulation Containing Zanthin Astaxanthin + Lutein + Zeaxanthin + Verilla Omega 3 ALA
Potent Carotenoid Formulation for Optimal Eye Health: Eye Pro MD combines Earths most potent and effective Carotenoids for Eye Health. The Astaxanthin, Lutein & Zeaxanthin within Eye Pro MD work along different pathways to improve and preserve eye function and health.
Optimize & Preserve Eye Health and Function: Eye Pro MD works to prevent retinal damage from oxidative stress, light-induced damage and overall loss of vision. The carotenoids in the formulation also increase overall macular pigment density thus improving the overall health of the eyes.
Maximum Absorption & Delivery: Eye Pro MD is formulated with Omega 3 ALA to maximize the absorption and delivery of Carotenoids into the eyes.
#2 Macular Protect Complete AREDS2
Science-Based Health
Coming in second for 2019, Macular Protect Complete contains the most comprehensive ingredient list of eye health nutrients we've ever seen – over 30 vitamins and minerals.
This product is a fantastic catch-all for many issues pertaining to eye health. If other vision supplements have not worked for you, this is definitely where you should be looking.
Overall Score: 4.6/5
The Right Vitamins: 4.8/5
Effectiveness: 4.8/5
Potency: 4.6/5
MacularProtect Complete AREDS2 Vitamin & Mineral Supplement
Convenient, all-in-one nutrition formula offers powerful protection for macular & whole body health
Contains nutrients at levels found to help preserve eyesight in the AREDS & AREDS 2 clinical trials
Delivers 30 additional nutrients to protect the entire body. No additional multivitamin needed.
#3 HylaVision Eye Support
Hyalogic
Approaching eye care from a new angle, Hylavision utilizes hyaluronic acid as its primary active ingredient.
Hyaluronic acid is a liquid which can act as a cushion or lubricant in joints and tissues and is sometimes used to replace natural fluids in the eye during surgery.
Overall Score: 4.5/5
The Right Vitamins: 4.6/5
Effectiveness: 3.5/5
Potency: 4.8/5
HylaVision Eye Health Supplements: Hyaluronic Acid, Lutein and Zeaxanthin Dietary Supplements for Vision Support (120 Capsules)— Vegan Formula by Hyalogic
EYE HEALTH SUPPLEMENT: Help your eye health by maintaining a healthy supply of Hyaluronic Acid in your body! HylaVision's Eye Health Supplement w/ Hyaluronic Acid is a natural (120 capsules) dietary supplement that protects cells from oxidative damage and supports optimal eye function. AREDS study formulated.
VISION SUPPORT: It's easy to see how essential vision is for our daily functions. This Lutein and Zeaxanthin supplement supports retinal and macular health. In addition to Hyaluronic Acid, Bilberry, Vitamins A, C, E, and Zinc, creating a well-rounded vision health product for people of all ages.
CONTAINS PURE HYALURONIC ACID: The eyes also have a high concentration of Hyaluronic acid which is a shock absorber for the eye and helps transport its nutrients. HA supplements maintains optimum eye function by constantly nourishing and replenishing.
#4 ActiveEyes
Bronson Vitamins
Overall Score: 4.3/5
The Right Vitamins: 4.4/5
Effectiveness: 4.2/5
Potency: 4.5/5
#5 Ocutain
Vitasciences
Overall Score: 4.2/5
The Right Vitamins: 3.0/5
Effectiveness: 4.5/5
Potency: 4.0/5
Sale
Eye Vitamins for Healthy Eye Support. Lutein & Zinc Supplement Eye Care, Eye Health, Eye Vision, Dry Eyes w/Bilberry Extract, Beta Carotene Ophthalmologist Recommended Eye Vitamin Vision Supplements
EYE VITAMINS FOR MACULAR DEGENERATION - Ophthalmologist and Doctor Recommended Eye Vitamin Vision Supplement. Advanced vision support: synergistic blend of powerful ingredients indicated in studies to promote healthy vision.
ADVANCED DRY EYE SUPPLEMENT - Works from the inside out to provide continuous relief for dry eyes. Made from premium ingredients and manufactured according to the highest quality standards in an NSF Certified, FDA Registered and Inspected Facility. Clinically shown to support a healthy tear film and soothe the ocular surface. Brand trusted by doctors and specialists. Vita sciences has developed a reputation for innovative formulations and products manufactured to the highest quality standards
EYE VITAMINS FOR HEALTHY EYES: Vita Sciences Ocutain eye vitamins for eye health and for age-related eye health concerns. Research based natural ingredients: ocutain contains a powerful combination of lutein which according to a 2013 study showed significant benefits for optical health as well as beta carotene in the amount listed in the ared study.