This is where you will find only the brands which passed our lab's quality analysis. Our quality analysis, which is our basic supplement screening process, simply filters product that do not meet the following criteria:
The supplement must contain at least 95% of the vitamin quantity claimed by its label (5% deterioration is the standard allowance for storage and delivery)
The supplement must contain NO IMPURITIES OR ADDITIVES, such as artificial coloring, etc.
After the screening process, each product is graded according to additional criteria:
 Vitamin diversity – The variety of vitamins within each supplement. Finding a well-balanced supplement will promote overall health and helps to resolve broad-spectrum deficiencies.
Potency – the amount of vitamins within the supplement, measured in mg.
Price – self-explanatory, however it is important to remember that in most cases you get what you pay for.
You might notice that there are no gummy or chewable vitamins on this list, which is because gummies and chewables contain 40%-70% less vitamins and minerals than standard multivitamins. We're looking for the best of the best.
As men and women have different dietary needs, we have included multivitamin options which are specific to either gender. In addition to our top picks for men and women, there are two general-purpose multivitamins and our top prenatal vitamin choice.
Preview
Best Overall
Product Title
Optimum Nutrition Opti-Men, Vitamin C, Zinc and Vitamin D, E, B12 for Immune Support Mens Daily Multivitamin Supplement, 240 Count
Garden of Life Multivitamin for Women - Vitamin Code Women's Raw Whole Food Vitamin Supplement with Probiotics, Vegetarian, 120 Count
Centrum Adult Multivitamin/Multimineral Supplement with Antioxidants, Zinc and B Vitamins - 200 Count
Carlson - Super 2 Daily, Multi + Omega-3s + Lutein + D3, Heart & Vision Health, Optimal Wellness, Daily Multivitamin with Omega-3s and Lutein, 60 Softgels
Garden of Life Vitamin Code Raw Prenatal Multivitamin, Whole Food Prenatal Vitamins with Iron, Folate not Folic Acid, Probiotics, Best Vegetarian Non-GMO Gluten Free Prenatals for Women, 180 Capsules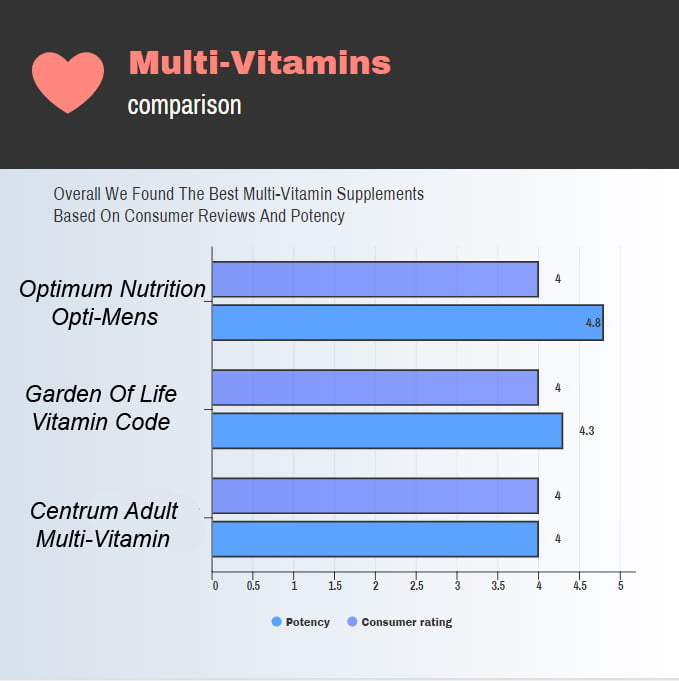 ---
Overall Rating: 4.5
Optimum Nutrition Opti-Men is a comprehensive blend of vitamins, minerals, and amino acids.
Optimum Nutrition has been around for a while and has gained a solid reputation for quality supplements. They also have a strong and loyal customer base and offer frequent discounts to new and returning customers.
Our analysis has shown that their multivitamin contains the promised ingredients listed on the label – which alone puts them above half of other multivitamin supplements.
Given the diverse nutrition profile, purity of ingredients, and positive customer reviews – this places Optimum Nutrition Opti-Men as our Best Multivitamin for Men of 2020.
Vitamin diversity: 4.25
Potency: 4.75
Sale
Optimum Nutrition Opti-Men, Vitamin C, Zinc and Vitamin D, E, B12 for Immune Support Mens Daily Multivitamin Supplement, 240 Count
Vitamin C, Vitamin D and Zinc Provide Immune Support along with Vitamin E
High potency multivitamin for active men. 75+ ingredients in 4 performance blends. 25 vitamins & essential minerals and 1 gram of free form amino acids, 1,500 iu of vitamin d
We are aware that some consumers have reported product crumbling when opti men tablets are removed from the original container and put into pill carrying cases. The product is safe to consume. The crumbling is due to excess exposure to moisture in the environment when put into the pill carrying cases. There have been isolated reports of crumbling in original bottle as well. We are implementing changes to increase the integrity of the tablet when stored in all containers. You may notice a change in a color of the tablet as a result
---
Overall Rating: 4.3
Garden of Life is another great company with a solid reputation.
Our analysis showed excellent purity of ingredients and the promised amounts of each vitamin and mineral. Most importantly for a Women's multivitamin, this supplement contains high amounts of calcium and magnesium – as well as other key nutrients that should be in any Women's multivitamin.
Given the effective amounts and broad spectrum of the right vitamins and minerals, along with very positive customer ratings, Garden of Life Vitamin Code for Women earns the title of Best Multivitamin for Women of 2020.
Vitamin diversity: 4.3
Potency: 4.3
---
Overall Rating: 4.25
A solid general multivitamin with a greater diversity of vitamins than most competitors.
Vitamin diversity: 4.5
Potency: 4.0
---
Overall Rating: 4.0
A potent alternative to our general vitamin supplement picks, targeting fewer vitamin quotas.
Vitamin diversity: 3.75
Potency: 4.25
---
Overall Rating: 4.0
Our overall Prenatal vitamin pick, the best vitamin for prenatal care!
Vitamin diversity: 3.5
Potency: 4.5
Sale
Garden of Life Vitamin Code Raw Prenatal Multivitamin, Whole Food Prenatal Vitamins with Iron, Folate not Folic Acid, Probiotics, Best Vegetarian Non-GMO Gluten Free Prenatals for Women, 180 Capsules
Whole Food Prenatal Vitamins: A comprehensive prenatal to postnatal women's multivitamin specifically formulated to meet the unique needs of women during pre-conception, pregnancy and lactation
Multivitamin with Folate & Iron: These prenatals provide folate (no synthetic folic acid) to support healthy neural tube development, gentle iron for mom and baby's blood and heart health, and vitamind D3 for optimal calcium absorption—plus 100% of the Daily Value of vitamin C, E, B-Complex and other important vitamins and minerals
Nutritional Support for Mom & Baby: This Whole Food Multi is made from nutritious, organically grown, raw fruits & vegetables, which naturally add supporting antioxidants, vitamins and nutrient cofactors for optimal absorption