This is where you will find only the brands which passed our lab's quality analysis. Our quality analysis, which is our basic supplement screening process, simply filters product that do not meet the following criteria:
The supplement must contain at least 95% of the vitamin quantity claimed by its label (5% deterioration is the standard allowance for storage and delivery)
The supplement must contain NO IMPURITIES OR ADDITIVES, such as artificial coloring, etc.
After the screening process, each product is graded according to additional criteria:
 Vitamin diversity – The variety of vitamins within each supplement. Finding a well-balanced supplement will promote overall health and helps to resolve broad-spectrum deficiencies.
Potency – the amount of vitamins within the supplement, measured in mg.
Price – self-explanatory, however it is important to remember that in most cases you get what you pay for.
You might notice that there are no gummy or chewable vitamins on this list, which is because gummies and chewables contain 40%-70% less vitamins and minerals than standard multivitamins. We're looking for the best of the best.
As men and women have different dietary needs, we have included multivitamin options which are specific to either gender. In addition to our top picks for men and women, there are two general-purpose multivitamins and our top prenatal vitamin choice.
[amazon table="3679″]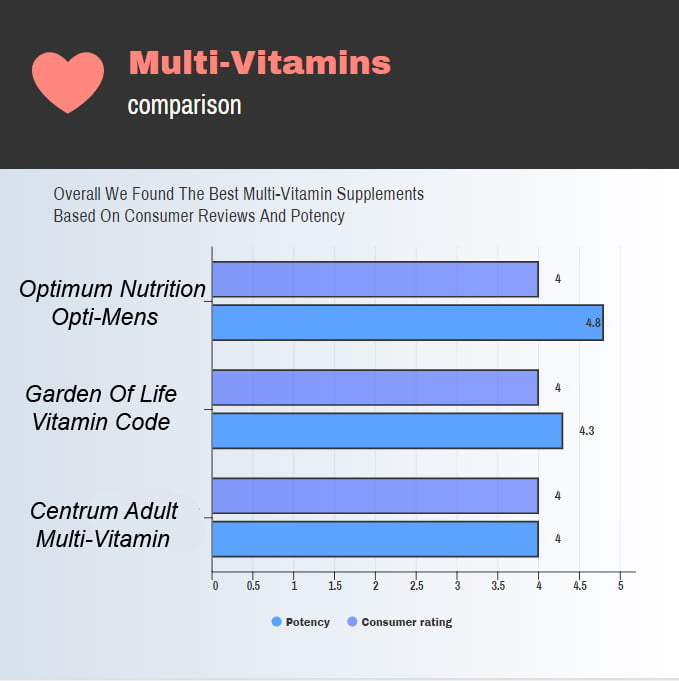 ---
Overall Rating: 4.5
Optimum Nutrition Opti-Men is a comprehensive blend of vitamins, minerals, and amino acids.
Optimum Nutrition has been around for a while and has gained a solid reputation for quality supplements. They also have a strong and loyal customer base and offer frequent discounts to new and returning customers.
Our analysis has shown that their multivitamin contains the promised ingredients listed on the label – which alone puts them above half of other multivitamin supplements.
Given the diverse nutrition profile, purity of ingredients, and positive customer reviews – this places Optimum Nutrition Opti-Men as our Best Multivitamin for Men of 2020.
Vitamin diversity: 4.25
Potency: 4.75
[amazon box="B00MEVITCY"]
---
Overall Rating: 4.3
Garden of Life is another great company with a solid reputation.
Our analysis showed excellent purity of ingredients and the promised amounts of each vitamin and mineral. Most importantly for a Women's multivitamin, this supplement contains high amounts of calcium and magnesium – as well as other key nutrients that should be in any Women's multivitamin.
Given the effective amounts and broad spectrum of the right vitamins and minerals, along with very positive customer ratings, Garden of Life Vitamin Code for Women earns the title of Best Multivitamin for Women of 2020.
Vitamin diversity: 4.3
Potency: 4.3
[amazon box="B00280M13Y"]
---
Overall Rating: 4.25
A solid general multivitamin with a greater diversity of vitamins than most competitors.
Vitamin diversity: 4.5
Potency: 4.0
[amazon box="B003G4BP5G"]
---
Overall Rating: 4.0
A potent alternative to our general vitamin supplement picks, targeting fewer vitamin quotas.
Vitamin diversity: 3.75
Potency: 4.25
[amazon box="B003BVIDEA"]
---
Overall Rating: 4.0
Our overall Prenatal vitamin pick, the best vitamin for prenatal care!
Vitamin diversity: 3.5
Potency: 4.5
[amazon box="B005JAT3TU"]